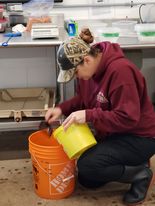 Volunteers were back into the hatchery last week and finalized the last of the ponding. We now have approximately 75,000 fry in the tanks in the hatchery.
Volunteers are still working to teach the little guys how to feed properly and cleaning the stacks that they were hatched in. We will continue to monitor all activity and will be looking forward to watching them grow as we move closer to their release date.
That date has not been determined yet. We will keep you informed.